(And now, for this week's Weekly Sampler!)
SoulChaser #2: Heaven's Eyes – Chapter 1
Collingloria Military Academy:
Softly, almost as a caress, the young woman wiped her classmate's blood from the silver carving blade onto her left pant leg; the crimson liquid joined and congealed with the rest of his cooling blood.
A choking, retching sound drew her gaze to the dying teen's eyes.  The last telltale signs of terrified astonishment still glimmered there, surrendered to momentary panic, then dull lifelessness.  His well-muscled body sagged against the ropes that bound him upright to the backside of the old tree.
"We have to hurry!  We won't be able to stay much longer!" her companion hissed from where they gathered on the distant end of the academy's exercise yard.
Warm blood filled the silver goblet the killer held up to the boy's severed neck.  As the crimson pool reached the goblet's rim and threatened to spill over onto her pale, milky skin, she pulled it away and handed it to her worried partner.  (Read more…)
---
"SoulChaser #2: Heaven's Eyes"
Now available in trade paperback!
SoulChaser, Earthbound #2: Heaven's Eyes (trade paperback) – $15.00
SoulChaser, Earthbound #2: Heaven's Eyes (Hardback) – $24.00
---
You can order the other books in both the "SoulChaser Universe" and "Starriders Saga" below:
Jean Archer #1: The Diamond and the Rough (paperback) – $12.00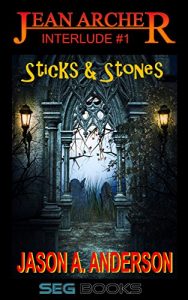 Jean Archer #1.5: Sticks & Stones (ebook single) – $.99
SoulChaser: Earthbound (paperback) – $14.00
Starriders #1: The Eagle's Talon (paperback) – $7.95
Starriders #2: Rebels Without A Clue (paperback) – $9.95