It took longer than we normally would prefer, but "Jean Archer #2: All Fall Down" is finally now available as a trade paperback, e-book and hardcover!  Join Jean and the rest of the P.A.S.S. team as school gets started and they adjust to being an official club at Andrews Prep.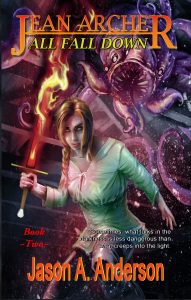 "I'm very excited for this release.  It's the first time we've had a 'Jean Archer' book in hardback, and they're beautiful.  I hope everyone enjoys the new adventure as much as I had crafting it.
Once again, the cover illustration for the trade paperback and e-book is done by Carter Reid, and I couldn't be more proud.  He has once again encapsulated the feel I was going for 100%!"
– Jason A. Anderson
Purchase the Jean Archer Quartet #2: All Fall Down Trade Paperback or Hardback, below:
Jean Archer Quartet #2: All Fall Down – $14.00 (Trade Paperback) 
Temporarily Out of Stock: Jean Archer Quartet #2: All Fall Down – $20.00 (Hardback)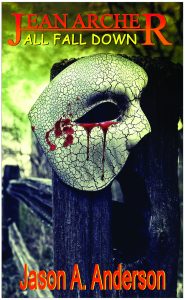 You can also get the trade paperback and the e-book through Amazon.com,.
You can order the limited edition hardcover on the left from BN.com, as well.
Download a free sample HERE.
(Warning: contains Book 1 spoilers!)
---
Attention: For a limited time, copies ordered through our website will be signed and numbered.  Personalized autographs are also available, making an excellent Christmas or birthday gift!
SoulChaser, Earthbound #2: Heaven's Eyes – $24.00
---
You can order the other books in both the "SoulChaser Universe" and "Starriders Saga" below:
Jean Archer #1: The Diamond and the Rough (paperback) – $12.00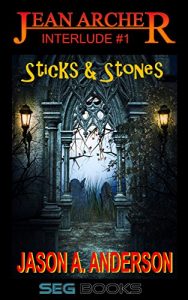 Jean Archer #1.5: Sticks & Stones (ebook single) – $.99
SoulChaser: Earthbound (paperback) – $14.00
Starriders #1: The Eagle's Talon (paperback) – $7.95
Starriders #2: Rebels Without A Clue (paperback) – $9.95